• • • Review: Appositions, Roles and Family Relations
Grown-ups everywhere use a simplified language when speaking with small children. Croatian is no exception.
Baby talks include simple sounds and avoid irregular and difficult stuff. The most frequent words are for Mum and Dad (never capitalized in Croatian):
mama "Mom"
tata (or: ćaća Dalm.) ma "Dad"
The word tata is a masculine a-noun. These words are used even when grown-ups address their parents, especially privately. In Dalmatia, ćaća is almost always used instead of tata.
Words for grandmother and grandfather vary by regions:
[under construction]
Words for aunt and uncle are very important, since children use them to address other adults outside of their family, That is, instead of formal gospodin "mister" and gospođa "madam". The word for "aunt" is mostly:
teta "aunt" (used to address and refer to other adult women as well!)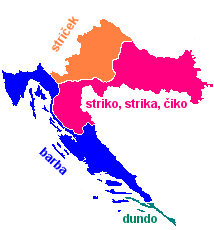 The word for "uncle" (just "father's brother", and used to address and refer to other adult men) varies by region:
| word | region |
| --- | --- |
| striček | kajkavian regions incl. Zagreb |
| barba ma | coast, Dalmatia except Dubrovnik |
| striko | Lika, inland |
| strika ma | Slavonia |
| dundo | Dubrovnik |
| čiko | some inland regions, Bosnia and Herzegovina |
Note that adults mostly use the word stric instead of these words. The word teta is then used colloquially (and in newspapers) in meaning "kindergarden teacher" (they are almost always women!), as in this headline from Jutarnji list daily:
U Hrvatskoj jedna teta na 36 djece u vrtiću
"In Croatia, (there's) one kindergarden teacher for 36 children in kindergarden"
The verb jedem, jeo, jela, jesti "eat" is replaced by:
papam ~ po- "eat"
[to be expanded]